The USO (United Service Organizations) is a private, nonprofit organization whose mission is to lift the spirits of military service members and their families. President Franklin Roosevelt created the USO on February 4, 1941, and served as its first honorary chairman.

The USO is perhaps most famous for the "camp shows" it organizes for troops serving overseas. During World War II and the Korean Conflict, celebrities such as Bob Hope, Marlene Dietrich, and Danny Kaye performed to boost troops' morale. Today, a wide variety of celebrities volunteer to provide entertainment at U.S. military bases. Singer Jessica Simpson will board the aircraft carrier USS Harry S. Truman as it visits Bahrain. Actor Mark Wahlberg will visit troops in Afghanistan. The Dallas Cowboys Cheerleaders will perform for troops in Korea. Other camp shows take place at bases in the United States. Musicians Katy Perry and Nicki Minaj will perform at Marine Corps Air Station Miramar, in Miramar, California.

In addition to the camp shows aimed at troops, the USO offers a number of programs for service members' families. Many of these programs are aimed at young children, and provide ways to connect to their parent or guardian overseas.

The Sesame Street/USO Experience for Military Families

In 2011, first lady Michelle Obama and Dr. Jill Biden, wife of Vice President Joe Biden, helped kick off the fifth USO tour designed to entertain children and to help them cope with a parent serving overseas. The Sesame Street/USO Experience is a free traveling tour just for military families.

"The Sesame Workshop is proud to be able to bring such an invaluable resource to military families around the world," says Gary E. Knell, Sesame Workshop CEO and president. The show features Muppets such as Elmo, Cookie Monster, Grover, and Rosita. The Muppets befriend Katie, a 6-year-old girl who is sad because her father is being redeployed overseas and she has to move again. In the end, they make her feel confident that she can make new friends and have fun in her new home.

United Through Reading Military Program

The USO partners with United Through Reading, a nonprofit organization, to help military members stay connected to their children through books. The program provides a DVD of a deployed parent reading a book out loud to his or her child, who follows along at home.

The parent or guardian at home then snaps a picture or writes about the child's reaction to the DVD in an email and sends it to the service member. Though thousands of miles apart, the parent and child remain "united through reading."

Military personnel can record books at many USO Centers around the world.

USO Photo Book

Service members can send photos home in a variety of ways. USO has teamed up with RocketLife for a project called USO Photo Book. The softcover photo books are designed to fit into a pocket and can hold up to 60 photos. RocketLife prints the books for free, and the USO pays for shipping to any military address.

Ashley Wyatt has had a good experience with USO Photo Book. Her husband is a captain in the U.S. Army, stationed in Iraq. "While most of the men in Iraq have access to the Internet and computers, you can't just hop on and check emails with pictures like you can here," Wyatt says. "Large attachments in emails make them much harder to download with the unreliable Internet they have.

"I was able to make a 20-page photo book full of pictures of our kids and all the new photos of our daughter and how much she's grown. It's perfect because when he gets home from his long days at work he is able to just flip through the book instead of hoping that the Internet is working so he can see them online."

With You All the Way

Trevor Romain is an author, illustrator, and entertainer. He works with such organizations as UNICEF, the Make-a-Wish Foundation, and the American Childhood Cancer Organization. He draws on his own experiences in award-winning programs that deal with tough topics—cliques, fear, sickness, divorce. With military kids, he talks about deployments and the return home, the good times and the bad.

Romain's first USO performance was at Ramstein Air Base in Kaiserslautern, Germany. Based on conversations with troops and their families, Romain developed a program called "With You All the Way." The program is aimed at children ages 6 to 12 who have a parent facing deployment overseas. The program helps children and their families prepare for deployment, stay connected during the separation, and plan for reintegration.

"With You All the Way" Deployment Kits include a DVD, post cards, a stuffed animal, and a writing journal. The journal features a calendar and map.

"When I talk to an assembly of kids, I always ask them how they deal with deployment," Romain says. "One girl told me she sleeps with her dad's shirt on so she can smell him when she sleeps. It was amazing to see the support the other kids gave this little girl. This is what our children endure. This is why a program for them is so necessary."

USO Centers

Hundreds of USO Centers around the country provide a community for service members and their families. Many USO Centers are located in airports, where more than 300 homecoming events are held every year. Homecoming events honor troops returning from overseas deployment.

Sometimes, the USO is called on for a more somber task—helping families whose loved ones have been injured or killed. "The USO gives [victims' families] every comfort we can and connects families with the appropriate resources," says Alison Ruble, president of USO of Illinois.

For example, the USO helps families get to Dover Air Force Base near Dover, Delaware, where fallen service members' remains are returned to the United States.

Lindsay Wadas, director of the USO Center at O'Hare International Airport in Chicago, Illinois, says, "Many family members have just 24 hours' notice. A USO volunteer will meet them at the gate, offer them a chance to rest, and provide a personal escort to the flight gate taking them to Dover."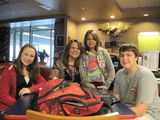 United Through Reading Recommended Booklist
Are you a service member who would like to participate in the United Through Reading program, but you're not sure what book to read to your child? No problem! The USO has come up with a list of great books to read aloud, from books for infants all the way up to teens. There are even special categories of books about important issues, such as connecting with one another through separation.
USO By the Numbers
2: Number of annual Warrior Games held at the U.S. Olympic Center in Colorado Springs, Colorado. Military service members who were wounded, injured, or ill compete in archery, cycling, basketball, shooting, swimming, track & field and volleyball.
160: Number of USO locations worldwide, including Afghanistan, Iraq, Kuwait, Qatar, the United Arab Emirates, Germany, Italy, Japan, Guam, Korea, and the United States.
191: Number of celebrities who participated in entertainment tours in 2010.
332: Number of times the Sesame Street/USO Experience has performed since 2008 for kids on military bases in Alaska, Hawaii, Guam, Korea, Turkey, Italy, Germany, the Netherlands, Belgium, the United Kingdom, Spain, and Japan.
500: Number of USO2GO bundles sent to forward operating bases since 2008. Each bundle, weighing one ton, is filled with much-needed electronics, entertainment, and personal care items and sent to troops in Afghanistan, the Philippines, Egypt, Iraq, Djibouti, and Kuwait.
8 million: Number of times a USO Center was visited in 2010 by a military or family member.
aircraft carrier
large ship with runways for aircraft to take off and land.
airport
area with facilities for the landing, takeoff, shelter, supply, and repair of aircraft.
cancer
growth of abnormal cells in the body.
clique
small, exclusive group of people.
community
group of organisms or a social group interacting in a specific region under similar environmental conditions.
deploy
to move military troops, support personnel, and equipment.
DVD
(digital versatile disk) disk that can store a large amount of digital information, such as text, images, video, or music.
first lady
wife of the president of the United States.
Franklin Roosevelt
(1882-1945) 32nd president of the United States.
Internet
vast, worldwide system of linked computers and computer networks.
invaluable
priceless, or extremely valuable.
Joe Biden
(1942) vice-president of the United States (2009-present).
symbolic representation of selected characteristics of a place, usually drawn on a flat surface.
Michelle Obama
(1964-present) first lady of the United States (2009-present).
military base
facility owned and operated by a branch of the military.
morale
emotional or psychological condition of a person or group of people.
nonprofit organization
business that uses surplus funds to pursue its goals, not to make money.
phase
stage in a process or transformation.
reintegration
process of returning to and involving yourself in a community or society.
remains
materials left from a dead or absent organism.
station
to assign a person, usually a member of the military, to work at a geographic location.
UNICEF
(United Nations Children's Fund) UN agency whose mission is to help improve the health and nutrition of children and mothers around the world.
USO
(United Service Organizations) nonprofit organization whose mission is to "lift the spirits of America's troops and their families."
volunteer
person who performs work without being paid.
World War II
(1939-1945) armed conflict between the Allies (represented by the United States, the United Kingdom, and the Soviet Union) and the Axis (represented by Germany, Italy, and Japan.)